The Festival Survival Guide - what to take, what to see, and what to wear?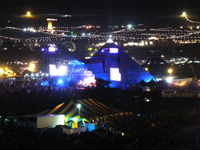 With this year's festival season fast approaching, we thought it could be handy to put together a PAAM festival software festival survival guide to help you through your festival experience! Festival going perfection is a hard state to reach but we think we've got some pretty good experience that could help you out, particularly if you've got your first festival lined up for this summer!
Pack Light
First things first, take as little as you can survive with and nothing you'd mind losing! Most of us take more than we need when we go away which isn't so much of a problem when we have cars, trains, coaches, boats and planes to help us move it all about, although when you're having to drag it all through six fields to get from the car park to your preferred spot in the sun it's a different matter! If you really can't be without that fourth pair of shoes then plan for this – many festivals offer wheelbarrow hire services to help you transport your gear but these can be very popular and when you finally get out of the traffic jam and into the festival the last thing you'll want to do is wait in another queue. If you have a look about on the net you'll be able to find one of the lightweight foldup wheelbarrows that you can pop in the car and use to transport all your stuff.
It will (probably) rain!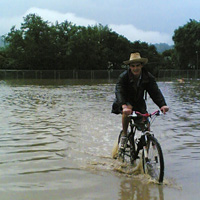 If you manage to fit everything into one rucksack, then you should make sure your supplies include some wet weather gear! It's likely to rain at some point over the weekend and whilst you may be able to hide in the Dance or Tiny Tea Tent for a while, after three days of constant rain you'll either be on the way to hospital due to a caffeine overdose or so sick of your favourite tunes that your next festival experience will come with complimentary cowboy hats and straw bales...
Festival Fashion
So at this point you may be thinking that the sensible option sounds, well, sensible. Although the idea of heading to a festival for a weekend probably means you're looking for something a little different?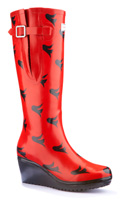 If so you're in luck! In recent years all sorts of functional yet funky festival clothing has appeared on the market. One of our favourites is the WedgeWelly! Theses boots actually came into being due to Glastonbury Festival – a couple of girls wanted to take a friend for her first festival experience but wearing anything but heels was a no no, so the WedgeWelly was born! Funky boots aside, the great thing about festival fashion is that anything goes! You'll see everything from ball gowns and tuxedos to daft t-shirts and sandals, and everything in-between - yes even monkey suits and probably more than your fair share of mankinis!
Planning Your Days
With so much on offer at festivals these days it can sometimes be a bit of a headache trying to plan out your days, let alone tie in your movements with your friends!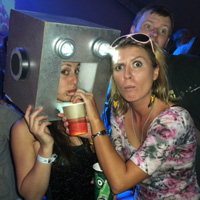 We've always found its best to try and not plan too much. Being restricted to a tight schedule of bands, comedy, cabaret and everything else you'd like to see will probably not give you the most enjoyable festival experience. Often, the funniest stories and most memorable moments are those happened upon by chance. Try just picking one or two main things you'd like to see each day and the rest of the time just taking a wander round. You're then far more likely to come across the new and unusual, some of which may become stories you tell and moments you remember for years to come! In short – make sure you leave some time to go with the festival flow.
You're going to smell...at least a little!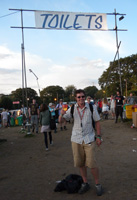 Three or four days of fast-food, porta-loos, intermittent showers and living in a field means you're probably not going to be smelling your best by the time Monday rolls around. Try not to worry about it; everyone is in the same boat and after many a cup of pear cider you probably won't care too much anyway. You can try and limit the damage and try not to camp next to the toilets; there's a good reason why they're the last spots to fill up! Another top festival survival guide tip is to bond well and truly with the joy that is a packet of baby wipes! Buy a big packet of baby wipes and some ziplock bags - you can then use the latter to keep a few wipes in your pocket when you head out. Very handy when you're covered in sauce following yet another irresistible bowl of chilli, or are heading out of the toilets to find a row of empty hand sanitisers.
Booze, booze, and oh err…BOOZE!
It's worth taking a good supply of your own beverages to a festival, although be aware that pretty much all but the smallest of festivals won't let glass anywhere near the event. Don't risk wasting all your money; make sure you buy cans of beer, decant your favourite vodka into plastic containers before you leave and try and buy wine in boxes rather than bottles (it'll last longer that way too!). Festival arenas usually prohibit you from taking in your own alcohol, so make sure you have enough room in your budget to buy drinks from the bars! Last but not least be careful! A lot of sun and a lot of alcohol don't mix well so pace yourself. There are no points for being the first admitted to the medical tent!
Make Some New Friends!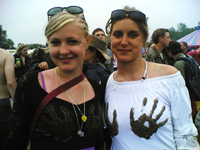 Get stuck into the festival spirit and get to know your neighbours in the campsite. Making new mates at a festival will introduce you to all sorts of fun and will make the campsite a much better place to be. Often it's the people that you bump into and randomly make friends with that can make a festival such a good experience. Most of the festivals have online forums that you can join before festival and then use to chat with others who have been before and are going again. Festival forums are a great place to get hints, tips and insider knowledge. If you're heading to the festival on your own you can even organise to meet up when you get there, camp together or even share the cost of travel to the festival – saving money and helping the environment along the way!
And now for the festival survival list to end all lists…
If you've never been to a festival before, or like us you just can't remember all the things you forgot last year and know the only way you'll remember is to make a list of it all – we'd thought we'd try and help out by condensing all of the above into an easy to check music festival survival guide list! Hopefully it'll help and make your festival a cleaner and greener experience too!
Getting there...
If you're travelling via public transport - bring your coach and train tickets!
Thought about lift-sharing? Try liftshare.org or freewheelers.co.uk
Getting in...
Your tickets! If you forget these it'll all be over before it's even begun!
What to wear?
Music festivals can be VERY HOT and VERY COLD - all in the space of one weekend! So please pack clothing to cover both extremes, for example...
A waterproof jacket.
A jumper or fleece.
2 pairs of lightweight trousers that dry quickly.
A pair of shorts.
A hat.
Lots of warm socks.
Boots, trainers, sandals or flip flops.
Still have space in your bag? Okay…
Money and cash card and remember to keep these with you rather than leaving them in your tent.
ID (Passport / ID card / NI card / driving license) – again remember to keep these with you.
Tent, sleeping bag, blanket, and a pillow – if you don't fancy carrying these home at the end of the weekend, take them to the left luggage / lost property / donation point before you go.
Camera – or just use your phone.
Mobile phone & charger – if you can try to switch it off when you're not using it and when you're asleep. Your battery will last longer and you'll be doing the environment a favour too!
Condoms – you never know you might just get lucky!
Paracetamol or just drink some water before you go to bed.
Sun cream and a hat as you'll hopefully be in direct sunlight all day.
Tin opener and bottle opener.
Tissues and loo roll – try to buy the recycled type.
Torch – everything looks different at night and that floral tent you bought thinking you'd be the only one with it...seems everyone else had the same idea!
Toiletries and a towel.
Hair brush, hair bands and a mirror.
Lip balm.
Nail clippers/nail file.
Toothbrush and toothpaste and some chewing gum/mints.
Bikini or trunks for the showers.
Wet wipes for when you just can't be bothered with a shower!
Sunglasses.
Pacamac – not very sexy but you'll look better wearing that than a bin bag if it rains.
Bin bags – put your clothes in one as you pack so they stay dry during the weekend. Try to buy recycled and re-use the plastic bags you bring your shopping in. If you do need more you can get bin bags and recycling bags from one of the many litter and recycling points around the music festival site. Please bag up all your rubbish and recycling and designate a litter and recycling point in your campsite area. Try to keep glass and cans separate.
Lager and cider – please bring cans as these can be recycled at the recycling points. Remember glass bottles are generally NOT allowed onsite.
Wellies – you'd be surprised how many pairs of wellies get left behind. If you don't want them please take them to a left luggage/lost property point.
Small camping stove and pans to cook in. Remember that gas canisters are banned at many festivals. It's worth checking first although most allow disposable barbecues, meth stoves, Trangia stoves, solid fuel stoves, gel stoves, Greenheat Base Camp Stoves and firelighter stoves.
A mug for tea, bowl, plate, spoon, knife & fork – bring reusable picnic sets if you can, rather than using stacks of the plastic disposable type.
Washing up liquid (for the above) - try to buy the environmentally friendly type.
Water container – buy a large, empty water container from a camping shop that you can fill from the water points or buy one large bottle of water and re-fill this.
Pot noodles/packet meals.
Teabags & coffee.
Sugar packets (from the services on the way!).
A sense of humour and an open mind!
We hope that helps you get a little more from your festivals! If you're off to a festival this summer and have some tips please let us know about it in the comments section?