Festival Essentials List and Festival Camping Checklist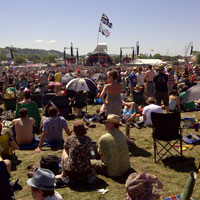 Although everyone knows festivals are all about being rough, ready and at one with Mother Nature, there are some things that even the most seasoned festival veteran would not leave home without. We're not suggesting you weigh yourself down with massive mattresses and gigantic gazebos, although they certainly have their benefits, but a bit of careful preparation and packing can be the difference between festival fun and fail. So before you fill your rucksack exclusively with sunglasses and cider, check out our comprehensive PAAM volunteer software festival essentials list below.
Immense Festival Mallet!
Of course everyone prays for dry weather at festivals, but it's not without its downsides. When the earth is scorched and dry, as opposed to something resembling chocolate soup, the unassuming tent peg can get the better of even the heftiest of hippies. This year, as in many others, would-be happy campers all over the world will be seen taking on the taxing task with flip-flops, tin cups, deodorant cans and all other manner of inappropriate items, to little or no affect. Do yourself a favour and strap a rubber mallet to you pack; you'll be the most capable cat on the campsite and make a hell of a lot of friends!
Simple Festival String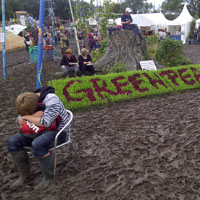 One of the most overlooked and underrated festival essentials is the humble piece of string. How long? It's up to you, but it's hardly going to weigh you down. The main function of your flexible friend is as a makeshift washing line, as no matter how many pairs of socks you pack (and it will never be enough), there's always going to be one soggy set that needs an airing.  Damp towels are also the first step towards serial soap dodging, and we all remember that sinking feeling we had as children when forced into clammy waterproofs by our hard-hearted parents.
Tiny Festival Torch
While big, bright camping lanterns are an in-tent essential, it's the tiny torch that will really make you the envy of your ill-prepared peers. This is an item that should be carried on the person at all times, as you will never appreciate the value of being able to see the inside of a portable loo until you're working on smell alone in the dark. Of course, many mobile phones come with inbuilt flashlights nowadays, but your chances of still having battery or your handset after a few days in a field are pretty slim. Many have also been lost to the depths of the stinky holes they were meant to protect against! We recommend keychain torches, a little Maglite hung around the neck, or the never-cool but ever-practical head torch.
Festival Toilet Roll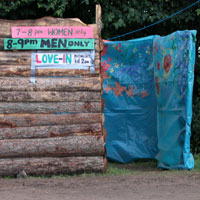 We know it seems obvious, but you'd be amazed how many people turn up at festivals without this essential piece of software. While festival first-timers not packing toilet roll may be encouraged by the seemingly ample supplies in selected portable loos on day-one, this guest-of-honour usually stays onsite about as long as an A-list headliner. Take out the centre tubes and squash a few into your pack. You can always make like an Andrex Puppy on the last day if you find you have some to spare.
Wonderful Festival Wet Wipes
If your compulsory festival brain cell loss started before packing and you forgot the above essential item, wet wipes can come to your rescue. However, these moist little miracles are really wasted on your bum. Whether you want to wipe your grubby mitts clean in order to enjoy a semi-sanitary sandwich, pad your pits to purge the pong, or remove the mud from your inner ears, you're on to a winner with wet wipes.
Festival Darling Dry Shampoo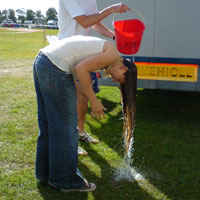 Most self-respecting young people will have never heard of dry shampoo, or at least only ever seen it in their grannies' bathroom cabinets. But we all know self respect is the last thing required on a festival site, so we've included it on our 2012 festival essentials list. For anyone not with dreadlocks or that annoyingly perfect festival hair that never gets greasy, dry shampoo is nothing short of a sensation.  Spray the white-powdery goodness onto your roots, rub through and brush out. You'll feel like you just stepped out of a salon!
Functional Festival Footwear
While everyone knows that wellies are the mainstay of festival footwear, they are not by any means the only option. Some kind of waterproof booting is essential, but this can come in the form of well-built walking boots, bulky biker boots or even plastic cowboy boots, although we recommend lining the latter with carrier bags, just in case they were in fact made for line dancing rather than moshing. On the rare occasion that the sun does come out, however, you're going to want to give those sweaty little piggies an airing, so make sure you also pack a pair of flip flops. Tevas are much more practical of course, but markedly less-cool.
Whacky Festival Headwear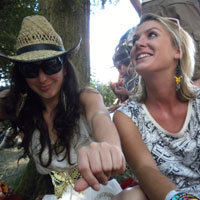 Not everybody is a 'hat person', although if you turn up on a festival site without some kind of headdress you will inevitably regret it. Baseball caps, although chavvy, keep both the sun and rain out of your face, while silly sunglasses make you look cool even when your eyes are bloodshot and pointing in different directions. Fluffy animal hats are also unbeatable at staving off the evening chill, while bunny ears and insect antennas will help your friends locate you in a crowd.
Unbeatable Festival Umbrellas
Although rain-loving revellers may dismiss the umbrella as an overkill item, their festival functionality cannot be underestimated. As well as keeping the sun and rain from beating down on your delicate brow, they keep people who like their eyes away from you in crowds. They can also double up as makeshift porches for those with crappy tents, meaning your wellies will forever stay dry on the inside.
Invigorating Festival Energy Drinks
As only the real rockers can last an entire festival without some kind of a slump, energy drinks are the ultimate party animal's accessory. The pocket-sized stimulants won't add much to your load, and they're a hell of a lot cheaper if you buy them before you get to the festival! They also make good mixers, which is more than can be said for the dishwater tea and coffee that is standard festival fare.
Brilliant Festival Box Wine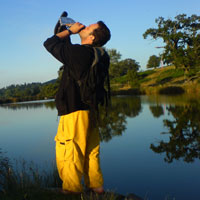 Festival veterans know only too well the importance of an on-site alcohol strategy. Glass bottles are heavy and prohibited at most events, and while we all love it fresh from the fridge, a can of beer loses its appeal somewhat after brewing in a warm tent for a few days. Box wine is therefore the answer with its safety-conscious cardboard cladding and handy handle for carrying. And as long as you go for red, the lukewarm temperature that would make other booze undrinkable is actually desired.
Non-perishable Festival Preserves
Unless you want to pay through the nose for over-priced and under-nourishing festival food all week, it makes sense to arm yourself with a few carefully selected snacks. Dried fruit and vitamin tablets will keep the wolves from your  porch, while high-fat, low-weight goodies like Scotch eggs, sausage rolls and crisps will stop you collapsing every time someone crowd-surfs onto you. Those susceptible to the evils of low blood sugar levels are also advised to carry 'emergency grumpy sweets' for the benefit of their friends.
Awesome Festival Attitude!
But even if you rock up without any of the above items in tow, the only 2012 festival essential you cannot truly survive without is a happy-go-luck mind-set. You will find your friends, you will one day be clean again, and you will at some point get home. As long as you pack plenty of positive attitude, you cannot fail to feel the beat!