Festivals on a budget - how to save money at festivals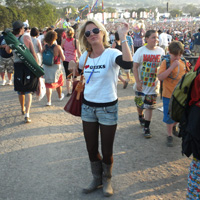 Although once affiliated with free love and free tickets, festivals nowadays can be costly affairs, with party-goers paying out a packet before they even get through the gates. While it's important to not get too het up about the essential expenses, there are ways in which the thoughtful and thrifty can avoid mugging themselves completely. Check out our PAAM festival staff guide to festivals on a budget and see if you can come home with more than just mud and someone else's underwear in your pockets this year.
Work or Volunteer at Festivals
One of the easiest and most enjoyable ways to save and even earn money at festivals is by pitching in with a helping hand. Although professional party animals may swoon at the thought of lifting more than a cider can on site, the experience of being one the cogs in the big festival machine can be very rewarding.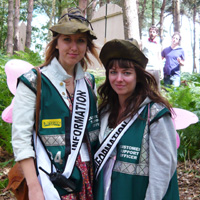 The benefits are undeniable. Not only will your hard work earn you free or discounted entry, most festival workers get special camping with markedly less mud, more toilets and cleaner showers.  Many also get a free feed before and after shifts, as well as unlimited tea and coffee to keep spirits up and outgoings down throughout the day. The food alone will save shed loads, while the feeling of being safely away from the 'riff-raff' is priceless. Choosing your event job is paramount, as only a few offer nice, short shifts that can sometimes be scheduled around your favourite bands. Early birds may even be able to do their bit before the festival begins, meaning they can mosh with the 'muggles' as if they too paid for a ticket. And while festival volunteering will leave you with a full heart but empty pockets, scoping out paid festival work, quite literally, pays. Whether you plan to work or volunteer at festivals, however, nearly all organisations looking for helpers require some form of deposit to ensure staff don't disappear into the thronging crowds once their wristbands have been securely snapped on. Usually a deposit is around the price of the festival ticket, but you can think of it as a form of saving as you'll get it back at the end of the festival or summer festival season.
Planning for your Festival
Whether you decide to work, play or enjoy a refreshing cocktail of the two, planning ahead is one of the best ways to save money at festivals. Stocking up on staple snacks and provisions is the first step, as while a breakfast of peanut butter, crumbled crackers and a handful of raisins might not quite tickle the taste buds like a full English, it probably has about the same nutritional value and is certainly better value-for-money.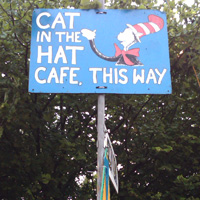 Nearly all UK festivals now have a ban on glass bottles, but decanting spirits into plastic containers or opting for cans and cardboard wine boxes is a safe way to avoid paying a bounty for your booze. Those attending city centre events will be able to pop to the shops on a whim, while those in the fields will need to bear the brunt and carry all the supplies they need. It may mean you have a hefty pack to hump on day one, but the rewards and knowing you'll be making the return journey with a far lighter load certainly helps the medicine go down! As well as food and drink, there are many other festival essentials that are easily forgotten but sorely missed. Smoking equipment can quickly burn a hole in your pocket if you have to buy it on site, while weather-resistant products such as sun cream, hats and waterproofs suffer even harsher mark-ups. Knowing to always be prepared for the worst, many clued-up campers also travel with a few basic repair items. Heavy-duty duct tape works a treat on ripped and burnt tents, while bin bags can be used as makeshift ponchos or emergency lining for leaky boots. Even if you rock up with all the right equipment, you can never guarantee it will last as long as you do! Buying a full arsenal of camping gear doesn't come cheap, but savvy shoppers will find there are many bargains to be had. While high street camping shops offer pricey but generally more durable digs, large supermarkets are havens for those looking for one-time tents and the like. Many online retailers also offer discounted festival packs that include all the basics, while army surplus stores sell study staples at a snip.
Festival Blagging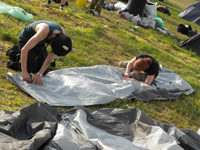 Taking advantage of the caring and sharing vibe at festivals can be a real money-saver. Before you even get to an event, you may find overly-trusting family members and friends are willing to lend you their equipment. As long as you're not the type to abandon your tent because it's just too muddy to pack up, there's no reason to shell out a fortune on new gear if there's perfectly decent stuff going spare. If you can't trust yourself, however, buddy up with a more responsible friend in exchange for help with pitching and packing. As festivals are riddled with caring types, there's usually an abundance of free stuff to be salvaged if you're willing to sniff it out. To avoid parting with your pounds for the thimbles of hydration sold in the arenas, scope out the free drinking water points and keep a few spare bottles in your tent for emergency morning guzzling. Harry Christners and the like also often offer free daily meals on a first-come-first-served basis, while at many events there are even do-gooders slapping sunscreen onto the shoulders of the pink and ill-prepared. Another great way to ensure you don't go home in debt is to arm yourself with all the things you know others will want. Although you will need a trading permit to properly set up shop, dishing out a few cans of surplus beer to your new mates will keep your wallet weighty. You can charge twice the amount you paid in the shop and still manage to undercut the beer tent by an irresistible margin. Baking a batch of brownies and offering them round to ravenous revellers after the burger vans have closed is also money-making magic, and if you don't mind getting down and dirty with deadlocks dishing out head massages is a sure-fire way to accumulate the festival favours.
Festival Thinking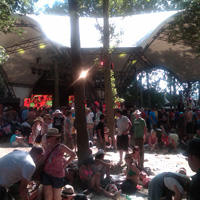 One sure way to reduce your onsite festival outgoings is to look after the stuff you take with you. Although it is clearly a daft idea to take all your prized possessions to a festival, iPods and cameras are commonly eaten up by the mud or the sticky fingers of the few festival thieves that ruin it for everyone. Even items mentioned in home insurance policies are rarely covered when lost out and about, so it could be an idea to organise personal belongings cover if you have a lot of expensive equipment. Alternately, lockers are provided at many events, although often at a charge. Most festivals now host onsite ATMs, but the queues are lengthy and the charges are high. Taking all the money you need for the duration obviously solves this problem, but it's a good idea to spread your eggs and keep half your cash plus a credit card wrapped up in a stinky sock somewhere at the bottom of your pack. Those attending city centre events may find it pays to leave the grounds and use fee free ATMs offsite. It's almost impossible to attend a festival without being tempted by some of the tasty treats being offered at every turn. We suggest that rather than denying yourself completely, you spend some time scoping out the vendors who offer the biggest portions for your pound. Similarly, those who wait until the final day of an event to purchase all those irresistible novelty knick-knacks usually enjoy substantial discounts...