Festival Fashion Essentials - what to wear at festivals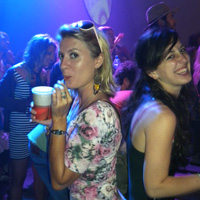 While hardcore hippies might suggest that festivals and fashion have nothing in common, those in the know are aware that you have to look cool in order to really rock out. Looking cool at music festivals however can be achieved in many weird and wonderful ways, and you don't need Kate Moss's bank balance to sparkle like a diamond in the mud. Check out our PAAM event software music festival fashion essentials and what to wear at festivals guide and see if your glad rags can give the rock stars a run for their money this year.
Sensible style
The biggest challenge with festival clothing is to be seen while still remaining comfortable, but there are plenty of items in every wardrobe that can help you do just that. Despite reaching their catwalk crescendo in the 1970s, layers have never really gone out of fashion and are still all-the-rage at music festivals thanks to their unbeatable practicality.  They work a treat on both guys and girls, with different order and colour combinations seemingly creating whole new outfits out of the same old garb. Pile them on in the morning chill and peel them off as the dance fever warms you up. Keeping hold of your personal items is always a chore at festivals, so make sure you're not slowed down by impractical or oversized baggage. Under-clothing money belts are of course the safest option, but if you have to strip down to your pants every time you buy an ice cream, your cover will soon be blown. Multi-pocketed, hip-slung utility belts are always cool and, much like bags with cross-body straps, they allow for care-free, hands-free raving and easy access. While petite backpacks are comfortable to carry and great for jumping around with, no one (apart from your old school teachers) has eyes in the back of their head, so watch out for sticky fingers.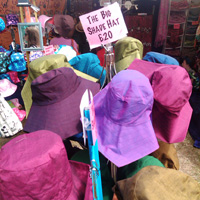 Headgear is also an important category to cover when considering what to wear at festivals. Brimmed sunhats, bandanas and headscarves will protect your noggin from the elements and hide your bed-head from the judgemental eyes of your more-perfect peers. Fluffy panda hats and the like also have the edgy-cute ratio just right and keep their wearers snug at night. Funky sunglasses will save those delicate peepers from the light while keeping everyone else in the dark about how much sleep you've had... The category of what not to wear at festivals is much more extensive, however, encompassing anything expensive, heavy, delicate or loved. Study footwear should of course always be packed for UK festivals, but consider pimping your pinkies a little with customised wellies or cowboy boots. Skinny jeans tucked into boots trump frayed hems trailing in the mud, and over-the-knee socks with cut-off shorts are a hot look for the ladies whatever the weather.
Downright daft
For some festival funkies however, practicality is the least of their concerns. Whatever the theme and wherever in the world, there's always at least one person, not necessarily female, rocking a ball gown at every event. Although these snazzy slips can be sourced cheaply from charity shops and jumble sales, be prepared to pay the price for your out-there attire in the form of the copious amounts of mud and sweat these marvellous monstrosities attract!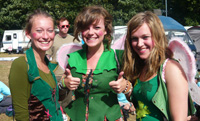 Even less convenient than a ball gown though is a full-body furry animal suit, of which there's always a few. Fancy dress of all descriptions is in fact a mainstay of festival fashion, even outside of largely-compulsory dress-up events like Bestival. Super heroes, show girls, robots and Leprechauns are all strangely popular, as are men in any kind of drag. If you choose to go down the downright daft festival fashion route, make sure you can still move, breathe and use the toilet, or you might regret being so fun... Those who want to show their wacky style without causing themselves a disability will no doubt find plenty of lightweight festival fashion ideas in the darkest depths of their wardrobes. Anyone who has ever been to a hen night, stag do or university party will have countless amusing accessories that can be added to any run-of-the-mill festival outfit to give a sense of the silly. Pirate patches, comedy glasses, tiaras, devil horns and bunny ears are just some of the long-forgotten items that you might become inseparable with on site. Body paint is also popular with those who dare to bear!
This season's staples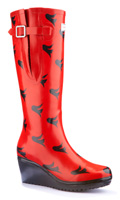 The above festival fashion tips are always on-trend on site, but if you're truly a slave to the catwalk, here's a few of this season's must-haves that will earn you a nod from other ravers in the know. The wearable wedge is one of this summer's biggest trends, and some clever people have had the good sense to make it festival-friendly. Known as the WedgeWelly, this fun and functional piece of footwear will keep your tutsies dry and give you a boost in height for a better view of the stage. Sported by the likes of Kate Moss and Sienna Miller, uber-trendy but ultra-pricey Hunter wellies are otherwise still the waterproof footwear choice of the festival fashionista. Otherwise you could style-steal from the TOWIE girls, who have recently been snapped teaming Doc Martens with girly pastels and floral designs, giving the ever-in military style a softer, cutesy edge. For warmer climes, Havaianas are still the coolest flip-flops around. The tribal look is also popular this season, and the bright colours and bold prints are just perfect for those looking to stand out with style at festivals. Girls should opt for floaty boho tops and en vogue oversized dresses, which, rather suitably, have been dubbed 'tents' this season. As most come off the rack with designer crumples, they're also great for stuffing into backpacks. Chunky ethnic jewellery and floppy wide-brimmed sunhats are in too, so accessorise and be seen! Guys should opt for floaty 'fisherman pants', utility-chic combats or the contradiction-in-terms that is long shorts, teamed with 70s-style hipster shirts, bright tribal tees or statement t-shirts. If opting for the latter however, be sure to pick something cheeky as opposed to offensive or you might receive more slaps than smiles. And although massively overworn, a versatile trilby still adds an edge of instant cool to any outfit.