Festival Food - The Festival Eating and Festival Cooking Guide
Although probably not the top priority for many at this summer's music festivals, food is going to have to feature at some point if you plan on hacking the pace and surviving the course. The quality of festival food is definitely improving, with some stalls now offering gourmet treats from every far flung corner of the globe. But whether it's a bog-standard burger or pomegranate-enthused polenta, you can expect to pay top dollar for your onsite snacks. And although nobody likes to cut into their beer budget, if you can afford to put some money aside for exploring the exotic tastes of the great outdoors, your summer experience is sure to be enhanced. In this PAAM festival software blog, we take you through the ins and outs and the dos and don'ts of festival food.
Healthy Hippy
No summer music festival can call itself complete without a healthy hippy contingent, meaning there is usually a whole host of stalls offering a range of tasty vegetarian and vegan treats. You don't need to be wearing tie-dye to get stuck in to a bowl of beans or a plate of crunchy ochre, as this healthy goodness will give even the most hardcore head bangers a lift.
Look Local
As festivals are usually held in the countryside, many offer revellers the chance to indulge in local, seasonal and organic food, brought in fresh from the surrounding farms. This is your chance to sample meat, fruit and veg that hasn't clocked up any air miles or been produced en masse for the supermarket shelves, so buy local and eat well. And let's not forget we are talking about British festivals, meaning there's always an ample smattering of staple comfort foods to be found on site. Fish & chips, bangers & mash or simple chips and gravy will make you feel right at home - even when you're lost in an unfamiliar muddy corner - and they also make for excellent hangover fodder.
Grab and Go
On that note, if you're simply looking to soak up a surplus of booze, a trip to a stall selling greasy burgers and kebabs is probably your best bet. Unless you've opted for a particularly right-on, new-age festival, there will almost certainly be a plethora of places selling grab-and-go festival favourites packed with plenty of fat to line the stomach and keep your energy up. Toasted sandwiches, burritos and falafel are good alternatives for those looking for something just as handy but slightly healthier.
DIY Festival Dinners
However, with captive customers, stall holders are well aware that ravenous revellers are going to have little choice but dig deep for their tasty treats. If you're on a budget therefore, the obvious solution is to pack some sustenance and supplies of your own.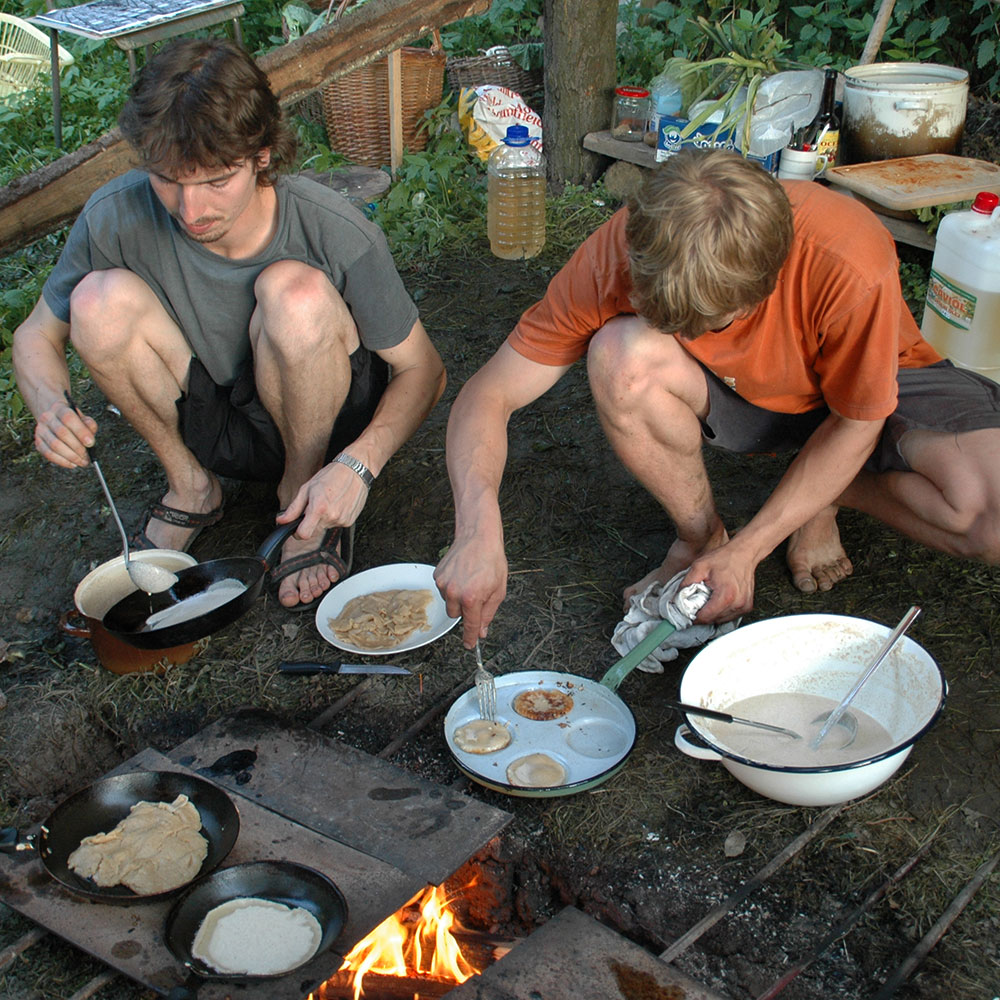 If you are planning to cook for yourself, it's obviously vital to check the festival rules for a rundown on what is and isn't allowed through the gates. Gas stoves are often unpopular with organisers, as are most things that could potentially cause a tent to go up in flames. It may sound obvious, but if you do bring a stove, double check that you also have enough of whatever it burns to last the weekend, as buying fuel on site will turn your money saving measure into a failed false economy. As cooking equipment is bulky, limit yourself to a single pan with a lid. If you don't mind roughing it a bit - and let's face it, who does at festivals - the pan can be eaten out of and the lid turned into an extra plate for a friend. This solution also saves on the washing up! The wonderfully retro spork (a fork and spoon combo) is also a genius space saver. Although you're free to cook whatever you like for your DIY festival dinners, a few top tips can save on space, disappointment and a potentially dodgy tummy. If you can survive a few days without meat then do so, as it can go off quickly and cause a nasty stink in hot weather. Cheese might also sound like a lovely idea when you're in the supermarket planning a picnic, but after a day in a hot tent that packet of mature cheddar won't be making any friends.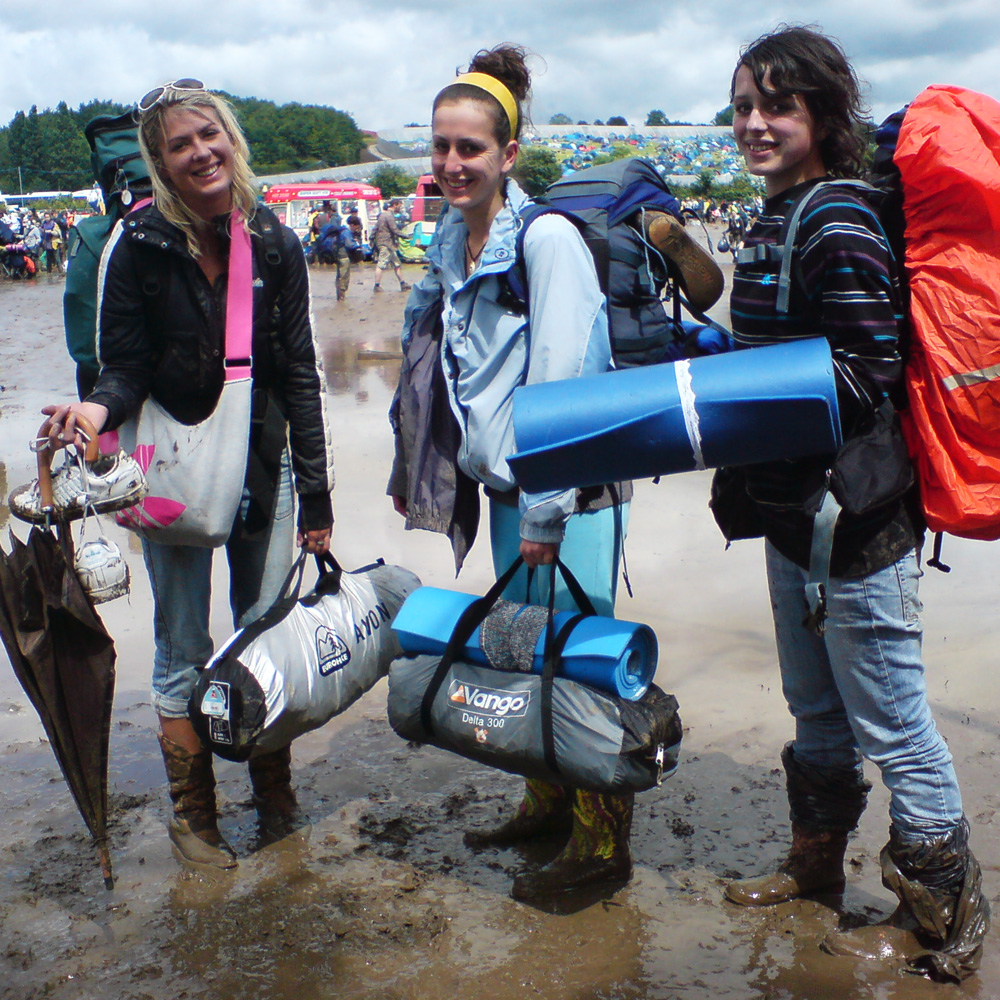 Tinned delights such as ravioli provide an easy meal for one as long as you don't mind carrying the weight, while sardines and tuna are smaller and pack a surprisingly filling punch. Just remember to bring a tin-opener - a hurdle at which many would-be prepared campers have come a cropper! Dried noodles and pasta sauce mixes are an obvious cheap and cheerful solution to home cooked festival feasts, but be careful to choose options that don't require the addition of milk or butter. Milk and butter are for the Winnebago owners, not the tent-dwellers, so you can forget about cornflakes as well.
Get Fruity at the Festivals
Fresh fruit is more of a God-send at a festival than you might imagine, as an apple or orange will taste like heaven when you're waking in a sweaty tent after a night of drinking and dancing. Bananas, pears and other squishable fruits are not so good however, as they will no doubt be nothing but a mushy pulp in your backpack by the time you go to grab them.
Festival Energy Hit
Boiled sweets are helpful when you need a sugar hit or just want to freshen up your mouth a touch. Chocolate can be both a disaster and a disappointment on a hot day however, so a top-tip for those who do need their cocoa is to get your hit from something covered in a hard shell, such as M&Ms or Smarties. Other good high-energy, light-weight snack staples include cereal bars, biscuits, crackers and nuts & raisins.
Timeless Festival Tips
And finally some general advice; whether eating at a stall or preparing food yourself, a simple rule for festival food (and life in general), is if it doesn't look right, don't put it in your mouth! Food poisoning is the very last thing you want when you're far from home, in the middle of a field with crowded Portaloos as the only place of refuge. Packing hand sanitizer and wet-wipes is also a must, as a few days hugging hippies without a proper wash will likely leave all sorts of lurgies lurking on your hands. But perhaps our most important tip of all - do remember to eat something at some point!